Posted at 2014-09-11 08:54:35 — Link

Hedrick-CS
Island Exploration Guide
This guide's purpose is to serve as a reference to what can be found on the islands and how often it can be found. Whether looking for a specific item and wanting to know which island to go to or wanting to know where to find the most fights this guide can help you.

Hundreds of islands have been explored for the purpose of this guide. Every silver, item, building, and monster encountered and gathered was recorded for each and every visit.

The raritys of encountering the various resources and buildings are based on two different methods. With the two main islands, grassland and desert, he rarities are accurate. With the others the rarities are based on personal experience. The latter will not hold true for everyone, especially those who have better or poorer luck.

Each island biome has been seperated into its own page for the sake of organization. You can find them below with a link back to this main page for when you wish to return.


 Best island for silver: Desert or Jungle.
*Best island for food: Desert
*Best island for monsters: Grassland
*Best island for guardians: Desert

*The above and below are based on accurate percentages of the grassland and desert only. Other biomes are yet to recorded accuratly and so are not currently included.

Adamantine: Desert
Amethyst: Tied
Clay: Grassland
Cotton: Grassland only
Cuttlefish: Grassland
Granite: Grassland
Hops: Grassland
Marble: Tied
Magnetite: Tied
Laminaria: Grassland only
Lazurite: Grassland
Ore: Desert
Quartz: Desert
Ruby: Tied
Soapshroom: Grassland Only
Stone: Desert
Shell: Grassland Only
Wood: Grassland
Vermillion: Desert

--------------------------------------------------------------------------------------------------------
Items and pets that alter island exploration
Travelling Magician Invite
When you have a travelling magician at your inn the fog of war (the black boxes) will be completely uncovered. This allows you to see the entire island at once without having to take a step.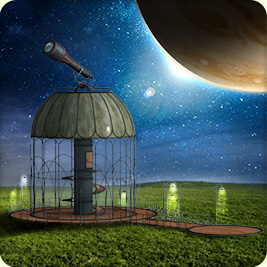 Astrologist
This building increases the chance of finding an item of choice. The higher the building's level the more noticable the change will be, with a top level astrologist creating a huge increase of the selected item on the islands. This building also works on chests and building such as the exchange market.


Carpo
Carpo is the kami of autumn. When any pet gathers food her presence in the stables increases the number of units collected.



Harvester Throdama
Harvester throdama morphs of grade one or higher recieve a 30% resource amount increase when they gather materials on the island.
--------------------------------------------------------------------------------------------------------
Current Event Information
Cat's eyes and the Kami of Summer
Cat's Eyes Butterflies are found in place of chests protected by guardians.