Posted at 2015-10-31 00:00:26 — Link


Collect the Enchanted Pumpkins until the November 11th, 23:59 EEST and trade them in Warlock Exchange Station to get 2 special pets!
>> Event page <<

---
A group of Warlocks, Magicians and Druids along with a few ambitious Beastlords have been working on a very special project for the last two cycles. You received an intriguing, though vague invitation to the presentation, promising that the project will catch your interest in any case. You have no idea why they've chosen this specific night, but you really hope that they aren't going to demonstrate an open gateway to hell pouring all kinds of demons and monsters onto your land.
...You enter the presentation site and gasp with awe and fear. Two formidable six-winged four-eyed dragon-like creatures menacingly stare right at you. You have never seen creatures like these before, though you recognize some familiar features in their appearance. The air around them distorts and trembles, forming a strange palpitating haze. You hope that whoever brought these weird creatures here have enough control over them.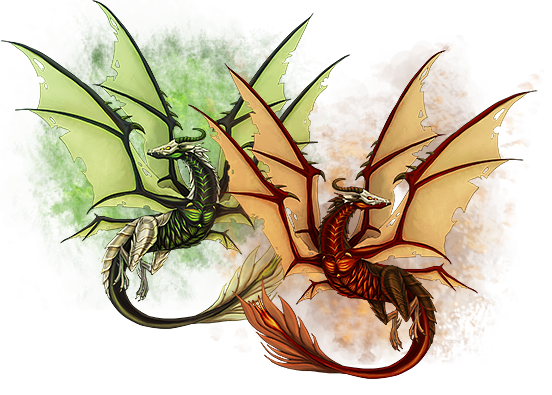 You see a familiar female Warlock who is heading towards the center of the site to take the word. She is the one who talked to the community when Council unleashed the Apocalypse Kami two cycles ago. Her face shines with enthusiasm: she got a chance to rehabilitate her reputation.
- Ladies and gentlemen, this day I want to introduce you the result of the collaboration of the best minds of Europa – the Drakes! I see that some of you feel uncomfortable in their presence. Though they look a bit… unsafe, these creatures are stable (Yeah, just like some of your previous experiments), so you can even leave a helpless child near them without any doubt. They are artificial beings fully controllable by their owner. We created them by merging together the genes of our regular Dragons and Cockatrices with the energy of the embodied Kami creatures that visited our moon. Drakes are perfect warriors and protectors, and they will always obey the directions of their owner no matter how boring or unpleasant the task is.
At least now you know what they've did with that Perfect Toxin from the most poisonous Cockatrice on the whole Europa. Knowing Warlocks, it could be worse than just creating a deadly golem.
- We're offering everyone a chance to get their own Drake!
Of course, creating a Drake is a very resource-demanding process. But everything you need to do is to gather the energy that will be used to merge the materials from the three worlds into one creature. Luckily enough, we got a blessing of the Harvest Kami this cycle, so all the harvest you gathered is great to be used as battery cells that can accumulate that special energy. We advise you to use pumpkins – they are big and tough enough to be charged with a considerale amount of energy and to be easily transported without damage. Now you just need to find the source of energy. And to get the double profit for everyone, we suggest to do this by reducing the population of Orthrus dogs that are started appearing on the islands recently. Here's how they look: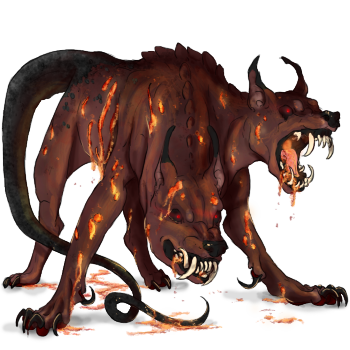 Dogs?! Did those demons ascended straight from hell to terror your poor manor? You are sure that these monsters are a direct consequence of another uncontrolled experiment with the other worlds, but you have no proofs.
- Visit our exchange station when you get some pumpkin cells charged! We're also trading some of our exclusive items for that energy.